Some point this year I noticed that French's Fried Onions changed their packaging. I've held onto this container for several months thinking about what I wanted to do with it.
I realized that I could easily transform this into a cute treat box to use to give gifts to the neighbors.
I briefly tried to remove the label, but it was going to be more difficult than I had the patience for today. Next time I'm going to work longer on removing the label, but for today, I simply covered the labels with red paper and Mod Podge. Because the container is curved use rubber bands to hold the paper in place while the Mod Podge dries.
While the red paper was drying, I cut a strip of white paper with decorative scissors for the trim on the coat. I also cut strip of black paper for the belt and a piece of silver paper for the belt buckle.
Because the sides of the container are curved I used rubber bands on the belt and belt buckle to hold the paper while it dries.
The top of the lid has the French's logo that I wanted to cover. I simply cut a piece of white paper and rounded the corners so it would fit the lid. I stamped the paper with a greeting and left space to write a personal note.
The entire process took an hour and cost nothing since I used a plastic container that would have gone into the recycling bin and scraps of paper that I already had. Now I only have to wait until after the green bean casserole at Thanksgiving so I can make another.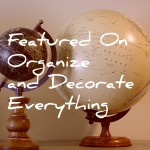 Linking at :